New footage as mystery remains over how many died in ferry fire tragedy
Comments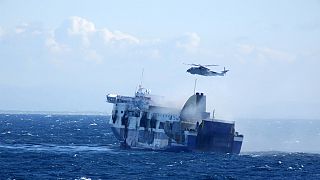 New footage has emerged of the ordeal suffered by passengers on board the fire-hit ferry Norman Atlantic which is due to be towed to the Italian port of Brindisi on Friday.
At least 11 people died when fire broke out on the vessel off Greece's Adriatic coast on Sunday. Two Albanian seamen were killed during the salvage operations that followed.
Amid confusion over the numbers on board, said to include illegal migrants, dozens more are feared missing.
The new pictures, filmed by one of the trapped passengers, show a large number of people wearing life jackets on an upper deck as smoke billows from another part of the ferry.
Speaking to reporters at his home, the vessel's Italian captain Argilio Giacomazzi is also being quizzed by investigators eager to establish what went wrong.
Hailed a hero by some for staying with his stricken ship, he urged people to focus instead on those who lost their lives.
Despite the ferocity of the flames, over 400 people were successfully airlifted from the ferry after the blaze broke out on a lower deck, during its voyage from Patras in western Greece to Ancona in Italy.