Fatal Italian ferry fire probe begins as number killed remains unclear
Comments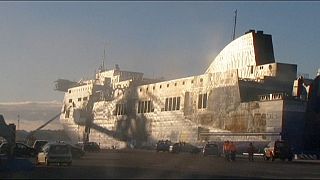 Emergency teams have boarded the wreck of a burnt-out car ferry now docked in the Italian port of Brindisi as an investigation begins into what caused a fire that left at least 11 people dead and many others missing.
Nothing seemed to work, the fire sprinklers, the fire extinguishers, nothing was working.
The Norman Atlantic has been impounded by magistrates as safety checks continue alongside a search for any bodies of passengers still on board.
"They are checking to see if all areas are accessible," said Brindisi Port Commander Mario Valente.
"As you can see, it is still smoking and we don't know what kind of situation they have found inside the ship."
Fire broke out on Sunday on a lower deck, leaving the ferry drifting without power in stormy seas en route from Greece to Italy. Its black box has been found.
Nearly 500 passengers and crew were rescued.
Most were winched into helicopters from the upper deck of the ship as the blaze raged below, but dozens may still be missing, possibly including illegal migrants not listed on the ship's manifest, Italian
officials have said.
Reports of those missing have varied from 10 to 98.
In his end-of-year address, Italian Prime Minister Matteo Renzi praised the rescue effort and complimented the ship's captain, Argilio Giacomazzi, for staying on board until the ship was fully evacuated.
But several rescued passengers have criticised the handling of the emergency.
Leonidas Constantinidis, a Greek lorry driver with a bandaged arm and apparent burn marks on his face, told Reuters he had jumped overboard to save himself and was picked up by a nearby merchant ship.
"Where I was I did not hear any siren, any alarm. Nothing seemed to work, the fire sprinklers, the fire extinguishers, nothing was working," Constantinidis said.
It is unclear what went wrong but judicial sources have said six people – the captain, three crew members, the ship's operator and its owner – are under investigation for multiple manslaughter and causing a disaster.