World's worst fare dodger caught on CCTV
Comments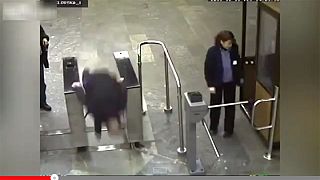 Could this be the world's worst fare dodger? Zossima Sozonov was caught on CCTV approaching a barrier no more than 12 inches high at Klovsk metro station, Kiev, Ukraine. Instead of paying, he opts to jump.
Despite the barrier being only 1ft high, Sozonov falls flat on his face and knocks himself out. Even worse, his attempt at fare dodging takes place in front of the ticket inspector.
Kiev metro operator spokesman Leo Aksakov said: "We don't make the barriers very high because we hope that people will respect the need to pay for the service, and it's more of a symbolic gesture just to remind people more than anything else.
"But it seems that even a symbolic gesture was too much for this man, who we hope will think twice before attempting to avoid buying a ticket, and serve as a warning to others."
Sozonov's escapade left him bloodied and unconscious for about 10 seconds. His embarrassment may last a while longer.