Retrial of Al Jazeera journalists must lead to freedom, says Amnesty
Comments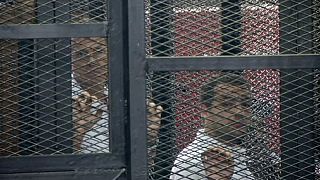 Egypt's highest court, the Court of Cassation, has ordered a retrial of three jailed Al Jazeera journalists citing flaws in last year's trial, according to defence lawyers.
The trio were not given bail and therefore must stay behind bars until the retrial.
"By calling for a retrial the Egyptian courts are prolonging the injustice that Mohamed Fahmy, Peter Greste and Baher Mohamed have faced," said Amnesty International's Hassiba Hadjsahraoui in a statement.
"These men should never have been jailed in the first place and should not have to spend one more day in prison. Instead of prolonging their unjust detention pending a retrial, they must be freed immediately," explained Hadjsahraoui.
Retrial of Al Jazeera journalists must pave way to their unconditional freedom https://t.co/H7JFTP7aiA#FreeAJStaff#journalismisnotacrime

— Amnesty Int'l NI (@AmnestyNI) January 1, 2015
The three journalists were jailed for between seven and 10 years on charges including spreading lies to help a "terrorist organisation" – a reference to the outlawed Muslim Brotherhood organisation.
"The Cassation Prosecution asked for a retrial, and we put forward our basic points: that the court applied the law incorrectly, because it was formed illegally. It ignored the defense, and believed that everyone working at Al Jazeera belongs to the Muslim Brotherhood, and that is illogical," explained defendant lawyer Rajaa Awni.
The case has also added to tensions between Egypt and Qatar, where Al Jazeera is based.
"I hope the reconciliation between Egypt and Qatar continues, and is reflected in this issue, in a positive way," said Mohammed Fahim, brother of one of the jailed journalists.
"These journalists are oppressed, they are professionals and do not belong to any terrorist group and cannot harm Egypt's security in any way, and I hope they are released," he added.
"The trial of these three men was a complete farce," said Amnesty International's Hadjsahraoui. "Their only crime was to challenge the political narrative of the authorities.
"All three are prisoners of conscience, targeted simply for exercising their right to freedom of expression in carrying out legitimate activities as journalists," he added.
The trial was condemned by other human rights groups and many Western governments and prompted the United Nations to question Egypt's judicial independence.
Euronews correspondent Mohamed Shaikhibrahim said: "Today's decision sends an optimistic signal and raises the possibility of a positive outcome after the retrial of the three journalists. But it also means starting the case from scratch once again."