HarperCollins wipes Israel off the map
Comments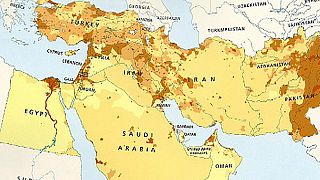 HarperCollins has come under fire after it published an atlas that omits the state of Israel from the Middle East.
The map was printed showing Jordan and Syria extending all the way to the Mediterranean Sea and made no reference to the West Bank.
Dr Jane Clements, director of the Council of Christians and Jews, said: "Maps can be a very powerful tool in terms of de-legitimising 'the other' and can lead to confusion rather than clarity.
"We would be keen to see relevant bodies ensure that all atlases anywhere reflect the official United Nations position on nations, boundaries and all political features."
Rabbi Abraham Cooper, associate dean of the Simon Wiesenthal Center in Los Angeles, said the HarperCollins move reflected a "dated mindset" and the reality was that Gulf States were "drawing close to Israel".
HarperCollins omits Israel from atlases it sells to Mideast schools, I suppose next they will omit any reference to the Holocaust they sell!

— Jonathan Levin (@Gawiesnr) December 31, 2014
#Iran wants to wipe #Israel off the map, but @HarperCollins actually did it, in the name of making money. Shameful! http://t.co/YCu545abJg

— AJC (@AJCGlobal) December 31, 2014
The atlases were due to be sold to English-speaking schools in the Arab Gulf. A spokesman for Collins Bartholomew, a subsidiary of HarperCollins, told The Tablet, a British Catholic newspaper, that including Israel would have been "unacceptable" to its customers and the changes were for "local preferences".
It was reported that one Arab state would only allow the atlases to be delivered once Israel had "been struck out by hand".
The publisher has since apologised and says the books will be removed and destroyed.
A spokesperson said: "HarperCollins regrets the omission of the name Israel from their Collins Middle East Atlas. This product has now been removed from sale in all territories and all remaining stock will be pulped. HarperCollins sincerely apologises for this omission and for any offence caused."