Netanyahu expected to easily win Likud party primary ahead of elections
Comments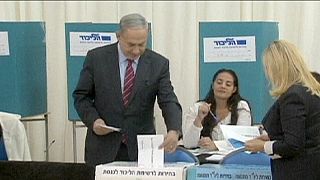 Israel's election race is taking off with a primary vote for Benjamin Netanyahu's right-wing Likud party.
The Prime Minister is widely expected to easily win the internal ballot of more than 96,000 party members ahead of a general election on March 17.
Netanyahu is up against one of his fiercest critics for the post of party leader: the former deputy defence minister Danny Danon.
"I would remind you that Likud is almost the only party with democratic elections," said the prime minister. "And ultimately what is important is one, great Likud facing everybody on the left to securely lead the state of Israel."
Meanwhile, the leader of Israeli's largest ultra-Orthodox Jewish party, Shas, has resigned from parliament.
Commentators say this throws the party into crisis just as election campaigning is supposed to get into full swing.
Already the election result looks uncertain, with the centre left-wing bloc running neck and neck with Likud in the opinion polls.