Dramatic phone footage of car ferry blaze, rescue
Comments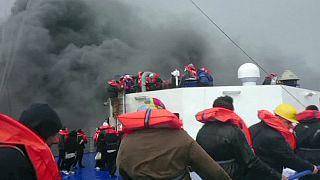 Dramatic footage of the burning Norman Atlantic ferry emerged on Wednesday from two passengers who filmed the rescue operation on their mobile phones.
Mustafa Kazan and Kemal Adan filmed scared passengers on the upper deck of the ferry during the long wait to be rescued.
Clouds of dark smoke and occasionally flames could be seen coming from the lower decks.
The video content has been checked by regional experts against known locations and events and is consistent with reporting guidelines from the Associated Press news agency.
The men spent two days on the upper deck of the ferry while the fire raged below.
The fire started on Sunday morning, at dawn.
Kazan and Adan were rescued by the Italian Coast Guard, airlifted to the San Giorgio navy ship and transported to the port of Brindisi on Tuesday night.
They said they were very happy to be alive, but were also shocked by their ordeal and concerned about the things they lost in the fire.
Kemal Adan is a truck driver and he was transporting mango fruit to Italy when the disaster happened.