New Year, new hope as Ukraine paves way for NATO membership
Comments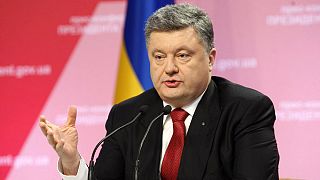 As Ukranians hoped 2015 would ring in a much better future for the country, President Petro Poroshenko signed a bill dropping the country's non-aligned status.
Clearing the way for what could eventually lead to NATO and EU membership, he said he'll hold a referendum before seeking to join the military block.
"I am planning reforms that will comply with EU standards and to the standards of the North Atlantic Treaty Organisation (NATO)," said Poroshenko.
"(Also) the key condition of the Minsk protocol – which will bring peace to our country at last – is the blocking off our borders and withdrawal of foreign troops from our territory. As soon as these troops are out of Ukraine, there will be no conflict any more. It will have only existed in our imaginations."
But residents of the rebel-held Donetsk region are less optimistic having relied on humanitarian aid over the past few months just to survive.
Donetsk resident Valentina Shevchenko says her New Year wish is for "peace, pensions and the welfare that we used to get for our children. If the new government does not give it to us, we will starve to death."
Kiev cut off welfare payments to the east fearing it would be used by separatists to expand the violence instead of being distributed to residents.
Fighting in Ukraine's eastern regions has claimed more than 4,700 lives in 2014.