Football: FC Barcelona's transfer ban confirmed for one year
Comments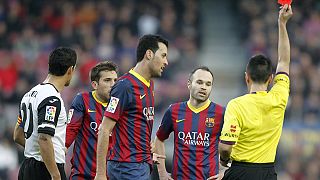 The Court of Arbitration for Sport (CAS) has upheld a ban on player transfers imposed on top Spanish football club FC Barcelona. The ban, handed down originally by FIFA in April, will cover the next two transfer windows, meaning the Catalan giants will not be able to buy or sell any player until January 2016.
It is punishment for infringements of rules governing foreign young players; FIFA regulations state that clubs are not permitted to sign players under the age of 18 unless certain conditions are met, for example that the player is moving within the EU and is aged over 16.
FC Barcelona tried to appeal FIFA's original ban, which was suspended pending FIFA's response. The club made the most of this suspension, making several summer signings including that of Uruguayan striker Luis Suarez from Liverpool for 81 million euros. FIFA eventually rejected the appeal, prompting Barca to take the matter to the CAS.
Alongside the transfer ban, the club must also pay a fine amounting to almost 375,000 euros.
Barcelona reacted to the CAS verdict with disappointment, posting a statement which read: "With all respect for the sports authorities, the Club has expressed its utter nonconformity with the resolution." The club defended its La Masia academy, which has produced footballers such as Lionel Messi, Xavi and Andres Iniesta, saying it has been "an example around the world for the way its young footballers are schooled and educated, and the work that is done on their development. FC Barcelona's youth structure has enabled hundreds of young players to achieve their dreams and receive a decent upbringing."