Traffic chaos continues in French Alps, snow chains made compulsory
Comments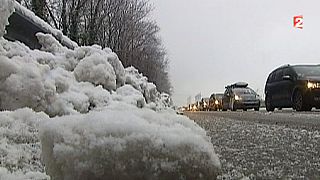 Traffic remained heavy in the French Alps on Sunday after a night which saw 15,000 people stranded by snow and forced to seek emergency shelter.
Many cars were not equipped with snow chains despite official warnings; the authorities have since declared them compulsory on certain routes.
One young man died when his car left the main road and fell 200 metres down a mountainside.
More than eighty emergency shelters were crammed full overnight, while the authorities said they had no idea how many people had spent the night in their cars.
"I think it's been more than 10 years since we have triggered an emergency plan like this, so it is a little bit unusual. And it's really the number (of people)… I don't think I have the figures, but it's really extraordinary," said Lydie, a volunteer at a shelter known as 'La Pierre du Roy'.
At Chambéry airport more than 2,000 mainly British tourists were unable to fly home from ski holidays due to the weather.
Drivers heading towards ski resorts were turned back on two motorways.
Four departments remained on alert for snow and ice – the Ain, Isère, Savoie and Haute-Savoie – as more snow was forecast in the region.