Ukraine: Mass prisoner exchange following peace talks
Comments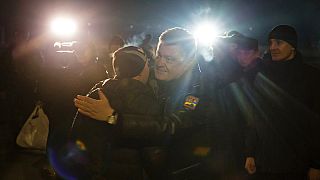 Ukrainian President Petro Poroshenko has met some of the freed prisoners, who were exchanged with pro-Russian separatists in the east of the country, at a military airport near Kyiv.
There have been conflicting reports of the total number of prisoners released. Russian state media said the total figure stands at 370, 222 by Kyiv and 145 by the pro-Russian rebels.
The exchange comes following peace talks between Ukraine, Russia, the separatists and the OSCE on Wednesday.
A third round of negotiations due to take place on Friday in Minsk were cancelled.
Petro Poroshenko, President of Ukraine
"As the president and as an ordinary citizen my heart is full of joy. As promised you'll be able to celebrate New Year with your families and military friends. That's what we've been waiting for so long. Thank you very much.Long live Ukraine. Long live the heroes," said the Ukrainian President, Petro Poroshenko, .
Meanwhile, Ukraine has frozen bus and rail links with Crimea.
In recent days, the southern region, which was annexed by Russia in March, has also experienced electricity black outs.
In a separate development, the world's two largest debit and credit card companies, Visa and Mastercard, have said their bank cards won't work in Crimea following fresh sanctions imposed by the United States.
More than 4,700 people have been killed in the conflict in Ukraine since violence broke out in April.