Ten years on: Indonesia remembers the tsunami
Comments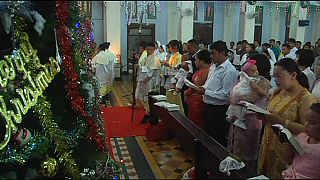 Ten years on from the tsunami that swept across the Indian Ocean killing more than 230,000 people, special services have begun in the region to remember the tragedy.
The people who died in the tsunami, it was actually only their body that died, their spirit is still alive.
Indonesia saw the largest number of losses. In Banda Aceh a special service was held in honour of the victims.
It was on December 26 when the 9.3 magnitude earthquake led to waves of over 30 metres sweeping across coastal communities in the Indian Ocean.
With nearly 13,000 islands, Indonesia's geography presents a particularly tricky challenge for disaster prevention. In Banda Aceh the lack of warning contributed to the dramatic death toll.
Andi Ekasakya Head of the Tsunami and Disaster Mitigation Research Center (TDMRC) says that the country has made huge progress in its early warning systems.
"Since 2012, we can not only warn communities within five minutes but we can also tell when a tsunami will hit, at what time, and how high the waves will be. Our recordings how, in fact it was not as much as five minutes, but an average of 4 minutes 47 seconds."
In places like Banda Aceh, where residents have just 20 minutes to reach high ground, every second counts to save lives from the power of the waves.