Spain's King says corruption must be tackled
Comments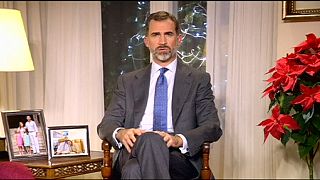 Putting the tax fraud trial of his sister and brother in law to one side, Spain's new King Felipe VI told his people that corruption must be stamped out.
In his Christmas Day speech, he said the country must take steps to cut financial crime at its roots.
King Felipe said:"People need to be sure that public money is administered for the ends legally established, that there is no favoritism based on the public position one occupies; that holding public office is not a means to take advantage and enrich oneself; that our prestige and good reputation in the world is not damaged."
King Felipe didn't refer directly to his sister Princess Cristina and her husband who are accused of embezzling millions of euros in public funds.
The trial led to the abdication in June of his father Juan Carlos.
Several scandals have left Spaniards angry as the country continues to suffer from the effects of the economic crisis.