Some displaced Iraqi Christians are not in the Christmas spirit
Comments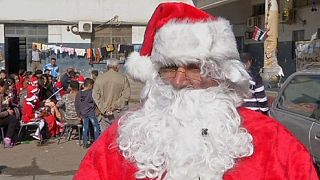 Internally displaced Iraqi Christians who fled violence in Mosul celebrated Christmas in Baghdad on Wednesday.
About 80 families gathered at a school in the city centre, which they use as temporary shelter.
Children played games and received presents from Santa Claus.
Christians fled their homes in Mosul after the city was captured by the Islamic State militant group earlier this year.
Meanwhile some 200 Christians living in a cultural shelter in the village of Dohuk in Iraqi Kurdistan were not in the festive spirit.
"It's Christmas and we are not celebrating. Our children haven't done anything to deserve this. They're innocent. Western countries are celebration. We're Christians living in humiliation. We want to go home to our churches in the new year," explained Jawhara Youssif.
Islamic extremists seized large swaths of territory in northern and western Iraq and compelled hundreds of Christian families and other minorities to leave their areas.
Since the 2003 US-led invasion of Iraq, Christians have frequently been the target of attacks by Islamic extremists, forcing tens of thousands to flee.
The exact number of Christians left in Iraq is unclear but they are thought to number several hundred thousand.