Japan's re-elected PM vows to push ahead with reforms
Comments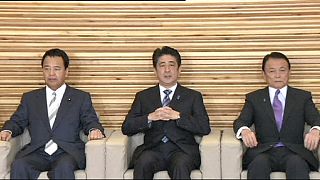 Re-elected by parliament, Japan's Prime Minister is vowing to push ahead with controversial economic reforms.
Shinzo Abe has appeared before the cameras with his cabinet, and a new defence minister has been named.  
General Nakatani will replace the previous minister, who was caught up in a political funding scandal.
Commentators say the appointment of a new defence minister suggests Abe wants a more assertive security stance, which might concern China.
The prime minister brushed aside concern about record low turnout at elections he called 10 days ago.
He said the result was a mandate for his economic policies.