ISIL did not shoot down Jordan plane - US military
Comments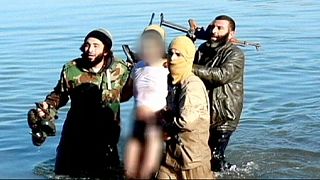 The US military says it has evidence that a Jordanian warplane that crashed in Syria was not shot down by Islamic State militants.
The statement contradicts the Jordanian government which earlier admitted that one of its jet fighters was shot out of the sky by ground to air missiles.
The jihadist group uploaded images to Social Media appearing to show the captured pilot.
He was picked up after taking part in a coalition air raid over the province of Raqqa on Wednesday.
The United Nations has echoed calls from his family for his captors to release him.
UN spokesman Stéphane Dujarric
said: "The Secretary-General calls on his captors to treat the pilot in accordance with international humanitarian law. Obviously, the Secretary-General is following the situation very closely and the continued armed conflict in Syria and is deeply concerned with the continued use of violence across the country, including the use of barrel bombs in populated areas."
Reports say Syrian regime forces launched its latest barrel bomb campaign on Tuesday, and killed around a dozen children.
Video footage purportedly from Aleppo was said to show the widespread destruction caused by the explosives, dropped from airplanes onto residential areas.
The UN says the use of barrel bombs by the Syrian government has been stepped up since the UN Security Council adopted a resolution earlier this year, banning their use in the war-torn country.