Over 10 children killed in latest Syria violence
Comments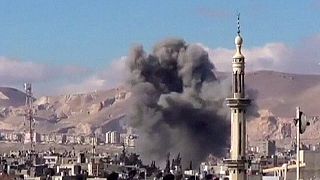 At least 10 children have been killed in Syria after government airstrikes hit two schools in separate incidents today.
Seven of the dead were from Idlib province, where military planes dropped barrel bombs on their school.
Another school in the Douma neighbourhood of Damascus was also hit, killing three children and at least two others.
Four children died yesterday when a government air strike hit their bus in the northwest of the country.
Fighting continues across the country and video uploaded to social media on Monday appears to show opposition fighters targeting government controlled areas of Damascus.
The unverified images also appear to show government helicopters launching aerial attacks on several towns, including Damascus, Aleppo, Idlib and Homs.
Most of those killed or wounded in today's strikes were under the age of 10, according to the London-based Syrian Observatory on Human Rights.