Ukraine: Belarus Leader makes pledge on peace talks
Comments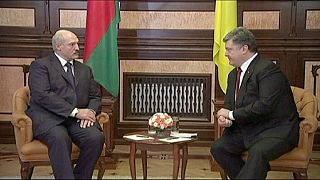 Belarus says it's ready to help Ukraine revive stalled peace negotiations over its separatist conflict in the east.
In talks with his Ukrainian counterpart, Belarussian President Alexander Lukashenko promised speedy assistance to help deliver a new round of talks with pro-Russian rebels.
Protesters rallied against his visit on Sunday saying the Ukrainian government shouldn't entertain the man they described as the "dictator of Belarus".
In September, after months of violence, Minsk hosted talks that sealed a cease-fire which included a move towards greater autonomy for two of Ukraine's eastern regions.
But no new date has been set for negotiations to continue.
A Russian aid convoy crossed the border into eastern Ukraine on Sunday delivering Christmas trees and presents.
Moscow says 180 trucks headed to Donetsk and Luhansk and also carried food and medicine.