Thousands of anti-Islamisation protesters gather in Dresden as 'Monday demos' cause concern
Comments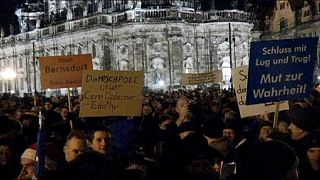 Close to twenty thousand anti-Islamisation PEGIDA protesters have turned out in Dresden.
The "Monday demos," which began in October, have now ballooned from a few hundred to the thousands out in force in the capital of Saxony.
The leader of the roughly translated "Patriotic Europeans Against the Islamisation of the West," Lutz Bachmann addressed the crowds:
"Germany is not a land of immigration. Integration does not mean living beside each other, but to live together on the basis of the Christian-Jewish merits of our constitution and our German culture with its Christian-Jewish roots, determined by Christianity, humanism and enlightenment," he said.
In a counter demonstration some 2,000 opponents of PEGIDA demonstrated against the "neo-Nazis in pinstripes" as labeled by Ralf Jäger, the Social Democratic interior minister for North Rhein-Westphalia.
Residents in the city are growing concerned: "This is really depressing, Germany has already done so many terrible things in the past, I think this is terrible," said one woman.
German Chancellor Angela Merkel has condemned the group and called on Germans not to be "exploited" by the extremists.