Cristiano Ronaldo hometown erects statue
Comments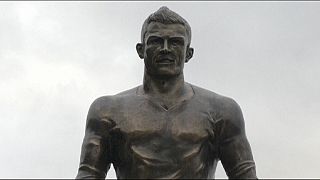 Hundreds of Christiano Ronaldo's hometown fans have witnessed the unveiling of a bronze statue of the Portuguese and Real Madrid striker.
"I think he's more beautiful than me. It's very beautiful, I love it," said Ronaldo.
But many supporters were unimpressed that the 2.4 metre replica doesn't look enough like their footballing hero.
Others noticed that the statue of Ronaldo erected in Madeira's capital Funchal looked particularly figure hugging and sported a generous bulge.
Fresh from winning the Club World Cup final in Morocco, the 29-year-old flew back to Madeira on Sunday for the honour.
The statue weighs 800 kilos and was created by local sculptor Ricardo Valosa.
It takes pride of place at Ronaldo's personal museum
in Funchal.
Our correspondent Claudia Garcia said: "From Madeira to the world, the statue of Cristiano Ronaldo was inaugurated by the man himself, and he thinks it's more attractive than the original."
Ronaldo also told fans that it was an honour that a statue was made in his lifetime.
But fans were divided over how alike the statue was to the world's number one footballer.
"We think that the facial expression looks a bit like him but not the face, physically it looks a bit like him," said the Madeira resident.
The statue is a tribute by the newspaper Jornal da Madeira and was inspired by Ronaldo's trademark pose when he takes freekicks.