New Romanian President Klaus Iohannis vows to tackle corruption
Comments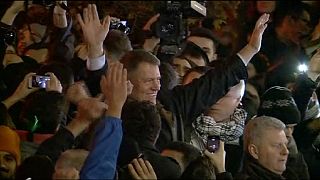 Unlikely election winner Klaus Iohannis was sworn in as President of Romania on Sunday (December 21).
He won a shock victory over left-wing Prime Minister Victor Ponta in the November 2014 vote.
The swearing-in ceremony took place almost twenty five years to the day after the collapse of Nicolae Ceausescu's communist regime.
Standing in the parliament building constructed by the fallen dictator, new President Ioahnnis pledged to take a hard line on corruption a policy he fought and won his campaign on.
"I don't want corruption to be present on the public agenda any more", he said. "Public institutions should work for the citizens and the political class should understand for once and for all that they are working for the public, rather than individual or group interests."
The role is largely a ceremonial one. However, the president has the power to appoint the prime minister, oversee foreign politics and veto draft laws.
Iohannis has promised to be a unifying presence. Since Ceausescu's downfall, political bickering has restricted progress in Romania.
PM Ponta and former president, Traian Basescu, feuded to the point of a constitutional crisis.