Olympics star Michael Phelps admits drink-driving charge
Comments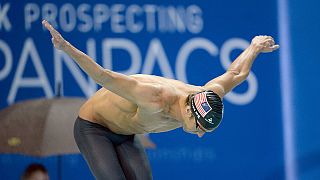 Olympic gold medallist Michael Phelps was sentenced Friday to 18 months' supervised probation after pleading guilty to drunken driving, almost three months after he was arrested leaving a casino in Baltimore.
In court, Phelps told Judge Nathan Braverman "I now have the tools to move past this. What I did was wrong, and I made a bad mistake. I'm looking forward to having a much brighter future than I had in the past."
The 29 year-old swimmer was arrested in September for speeding and crossing the double yellow line in the Fort McHenry tunnel. Police say Phelps failed sobriety tests and registered a .14 percent on a blood-alcohol test, almost double the .08 percent legal limit in Maryland.
This incident was not the first time Phelps had been driving under the influence. In 2004, aged 19, he was arrested on the Eastern Shore of Maryland but escaped conviction as he was a first time offender. He was instead sentenced to probation and was required to talk to high school students about alcohol awareness.
In 2009, Phelps was again back in the public eye for the wrong reasons when a British tabloid newspaper published a photo of him using a marijuana pipe at a party in South Carolina, causing him to lose one of his major sponsors, Kellogs Co.
And Braverman made it clear that there would be no more second chances for Phelps. "You don't need a lecture from the court. If you haven't gotten the message by now, or forget the message, the only option is jail."
Since his arrest, the Olympic champion had returned to training with his sights sets on competing at the Rio 2016 Olympics which will be his fourth Games should he qualify for the US Olympic Team in just under two years' time. His suspension for the DUI arrest, imposed by USA Swimming, ends on March 6, allowing him to compete in the last three events on the U.S. Grand Prix programme although he is ineligible to race at the 16th FINA World Championships next summer in Russia.
At the PanPacific Championships in Australia, one of the biggest events in 2014, Phelps won three golds and two silvers and was named USA Swimming's male athlete of the year.
Article by Hugo Lowell