New "muzzle" law sparks protests across Spain
Comments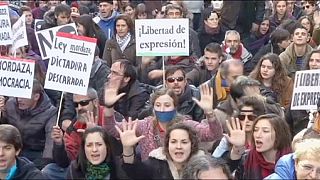 Thousands of demonstrators have taken to the streets of several Spanish cities to express their anger at a new public security law.
Approved by the country's parliament last week, the new legislation sets large fines for offences such as burning Spain's flag or holding protests outside government buildings.
In Madrid, several thousand people demonstrated in the centre of the city.
"We are returning to the time of Franco (Spanish Dictatorship) and it is completely unconstitutional, we must protest because we cannot remain silent," said protester Eva Alcazar.
Another demonstrator said: "They are imposing a law that is cutting our freedom. The fines and penalties are more severe for protesting and taking to the streets. If you photograph a policeman beating up a citizen they punish the photographer and not the police officer."
The bill will go to the senate next where it is expected to pass as the ruling People's Party holds a majority.
Opposition parties and human rights groups have heavily criticised the law. They believe it is an attempt by the government to muzzle protesters over their handling of the deep economic crisis that has gripped the country for several years.