Opposition activist in Russia faces 10-year sentence
Comments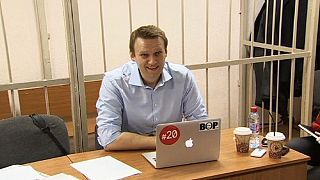 Prosecutors in Russia are calling for a 10-year jail term against opposition activist Alexei Navalny, in a fraud case dismissed by his supporters as politically motivated.
Navalny led protests against President Putin three years ago. He and his brother Oleg were then investigated over claims of theft from two companies.
Critics of the government claim the case is an attempt to stifle dissent.
A demonstrator outside the court in Moscow carried a banner that said "it's not a court case, it's an execution".
Prosecutors are calling for an eight-year sentence against Oleg Navalny.
The theft, denied by the brothers, is alleged to amount to 30 million roubles, which is equivalent to 410,000 euros.
"Life makes no sense if you have to tolerate endless lies. I will never accept this system, which is built on lies," Alexei Navalny told the court.
"I will not stop my fight against this junta. But there is no need to jail my brother for eight years. Taking hostages will not stop me."
"The guilt of the defendants has been fully proven," said prosecutor Nadezhda Ignatova.
The verdict in the case is expected in mid-January.
Navalny, a Western-educated anti-corruption blogger, is currently under house arrest.
The Kremlin denies it has any influence over judges in the starting of investigations or laying of charges.