Iraqi Kurds celebrate breaking of ISIL siege around Mount Sinjar
Comments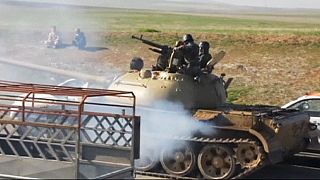 It is being described as one of the most significant victories so far against ISIL militants in Iraq.
This operation will of course continue to clear all the areas that are still under the control of ISIL
Kurdish Peshmerga fighters say they have now freed hundreds of people trapped around the Sinjar Mountains after breaking a siege that lasted four months.
The Peshmerga forces say at least 100 ISIL militants were killed in their attack, backed up by US airstrikes.
Masrur Barzani from the Kurdistan Region Security Council said: "This is an operation that happened under the auspices of the (Kurdish) President (Massoud) Barzani himself, to move from Zumar all the way to Mount Sinjar to liberate a vast area of Kurdistan, and also to be able to rescue those Yazidi people that are trapped on Mount Sinjar. So it was a very big operation and thankfully it was concluded very successfully."
He added: "This operation will of course continue to clear all the areas that are still under the control of ISIS (the Islamic State group) but the details of that, or the timing of that, I am not at liberty to discuss at the moment.
"But hopefully, our hope is, that all those people (the Yazidis on Mount Sinjar) will eventually be able to go back to their own homes and villages and towns. But those that are in need of evacuation now, a corridor has been opened to evacuate those people."
Hundreds of people from Iraq's religious Yazidi minority became trapped when ISIL advanced on northern Iraq in August.
The Perhmergas are now calling for more help to retake other areas controlled by ISIL, including the actual town of Sinjar.
Barzani said: "We do not want Peshmergas to be the only ones going into the areas, to have some political ramifications. The liberation of Mosul will require the participation of Arab forces, especially the Iraqi government military."
"No heavy armament has been provided and the Iraqis did not, in fact, even for this operation, we asked the Iraqi government to provide the ammunition needed for this operation," he added. "Unfortunately, they did not send the ammunition and their contribution was nothing, to be quite frank with you, especially for this operation."
The Perhmerga soldiers say they captured an area of some 700 square kilometres and then opened up a corridor towards Sinjar.
US forces are reported to have helped with close to 50 airstrikes on ISIL positions.
In recaptured towns, Peshmergas celebrated in front of graffiti that said "Property of Islamic State".
A tribute to the Yazidi woman fighter and defender of Mount Sinjar pic.twitter.com/qdLKBmWxGq

— Yezidi♡ (@EzatYezde) December 16, 2014
Peshmerga push back IS in Mosul dam – http://t.co/iQrNqBF9XXpic.twitter.com/KvfwAIq2yt

—

WAAR

media English (@WAARmedia_En) December 19, 2014
Rudaw reporter: #Peshmerga forces cleared several villages of the #ISIS in Snuse area near #Shingal

— Rudaw English (@RudawEnglish) December 19, 2014
Yezidi girls in Sinjar defending themselves against ISIS rapists. pic.twitter.com/BwfZpAgdBT

— Hamo (@KekHamo) December 18, 2014
Backed by U.S. airstrikes, hundreds of Yazidis trapped by ISIS fighters are freed http://t.co/9OnOItNq0Hpic.twitter.com/kSE2NtVmxS

—

NBC

News (@NBCNews) December 19, 2014
Watch: Iraq Kurds have liberated mount Sinjar and pushed back Islamic State militants http://t.co/Ypz99aYY6U#c4news

— Channel 4 News (@Channel4News) December 19, 2014