Changing US-Cuba relations divide Cuban Americans
Comments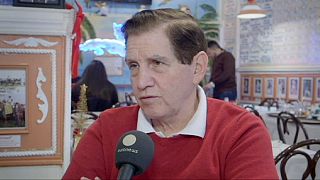 US President Barack Obama's surprise diplomatic move to normalise US relations with Cuba has divided Cuban Americans, mostly along generational lines.
According to national polls, young Cuban Americans between 18 and 30 support Obama – which confirms a shift of the community away from the Republicans to the Democrats.
Older people with vivid personal memories of Castro's regime are strictly against Obama's new approach.
The Cuban Corner restaurant just north of Washington in Rockville, Maryland, is a popular hangout for the local Cuban American community.
The restaurant is owned by Joaquin Cabrejas who fled Cuba in 1962 as a child. Despite some skepticism, he is hopeful that Obama's ouverture can ultimately bring about positive change in Cuba: democracy and personal freedoms.
"Democracy, liberty, freedom to travel as they please from their own homeland to anywhere on this earth, if they are dissatisfied to leave, if they are content to stay," Cabrejas told euronews.
Other Cuban Americans harshly criticise Obama, like Mike Gonzalez who left his home country in 1972 at the age of 12. Today he is a senior fellow at the Heritage Foundation, a conservative think tank in Washington.
"For 54 years, Cubans have had no elections and have had a president named Castro. So for all these reasons, I am really saddened by the fact that our government is now in bed with them," Gonzalez told euronews.
Euronews Washington correspondent Stefan Grobe reported: "Now that the Cuban American community has digested President Obama's move, some cracks are becoming visible. But there is overwhelming support for Obama among young Cuban Americans, 88 percent. That might give the President's party a strategic advantage going into the 2016 campaign."