Business Review 2014 Part 1/4: Central banks chose different paths
Comments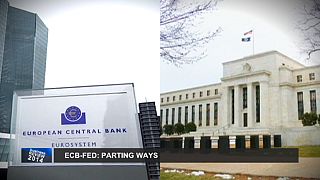 For the first time since the 2008 economic crisis, the central banks of the euro area and the United States headed in different directions in 2014 as the US economy improved and the eurozone's weakened.
The ECB had cut its benchmark interest rate to a record low of 0.05%, and launched other stimulus measures but is now set to print money to buy eurozone member state's government bonds.
The Federal Reserve meanwhile wound down its massive quantitative easing stimulus programme but made it clear borrowing costs would not be raised before well into 2015.
Other big business stories of the year: