Business Review 2014 Part 3/4: 'Naked' Russia beset by sanctions, oil and rouble trouble
Comments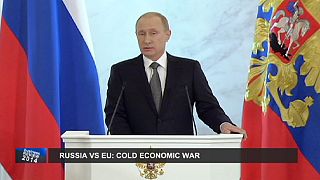 A difficult year for Russia's economy including sanctions over the annexation of Crimea, which cut off top state-run companies and banks from Western capital markets.
At the same time the rouble lost around half of its value against the US dollar despite the efforts of Russia's central bank and slumping oil prices made things worse.
As the leading investor Warren Buffett said about economic crises: "You never know who's swimming naked until the tide goes out."
Russia's economy is "naked" because of its dependency on revenue from oil and gas exports.
The Kremlin's retaliation for the sanctions included banning the import of many foods from the US and the European Union which had major effects in both places.
Other big business stories of the year: