Nigeria soldiers face death penalty for mutiny
Comments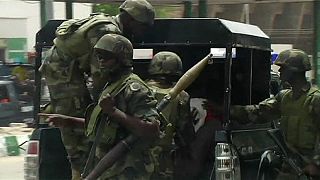 A Nigerian court has sentenced 54 soldiers to death for refusing to fight Boko Haram Islamists.
The men were found guilty of mutiny, refusing to help recapture three towns which the militants had seized in August.
Soldiers have been accused of running away but they complain of not having enough weapons and ammunition.
Nigeria has been fighting a Boko Haram insurgency since 2009. In this year alone, more than 2,000 people have died in attacks blamed on the group.