Latin American leaders welcome US - Cuba policy shift
Comments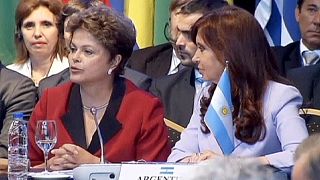 Miami Cubans living in 'Little Havana' have mixed reactions to the news of the policy shift.
Hardliners who want Castro removed from power called President Obama a traitor while others cried tears of joy.
Leaders of Latin American countries broke into applause on hearing the news at the Mercosur summit.
"Today is Pope Francis' birthday, the Argentine Pope," said Argetine President Cristina Fernandez. "He had an important role in the mediation, recognised by Raul Castro today. Today we celebrate this result, not just Argentines but also South Americans, Latin Americans. This should be celebrated all over the world."
Brazilian president Dilma Rousseff highlighted the historical implications.
"This is a moment that marks a change in civilisation, showing that it is possible to re-establish relations that were interrupted many years ago," she said.
Even the Venezuelan president who days before branded the US government as "arrogant Yankee imperialists" had a kind word for Obama.
"We are very happy. We must recognise President Barack Obama's gesture, a gesture of courage and historical necessity, that has been perhaps the most important step in his presidency," he said.
By turning the page on the past, the US has not only opened ties with Cuba but also won praise from both allies and enemies in Latin America in the process.