Kenyan MPs trade blows in parliament over tough new security bill
Comments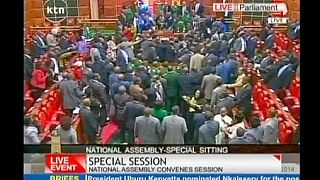 Parliament descended into chaos in Kenya as MPs traded blows over a new bill to toughen security.
Opposition MPs tore up papers and threw books to disrupt the vote on the bill which they believe will turn the country into a police state.
The parliament was adjourned twice before the controversial changes were pushed through by the ruling Jubilee coalition.
"The hard won freedoms of Kenyans are under threat not from insecurity, but from the state presided over by the Jubilee oligarchs," said Moses Wetangula, senator and member of the opposition.
The bill allows security agencies to detain terror suspects for up to a year, tap communications and place restrictions on journalists.
It comes in response to increased threats from Islamist militant groups. Al-Qaeda linked al-Shabab has killed 64 people since last month.