Cubans in Havana and Miami react to new US-Cuba relationship
Comments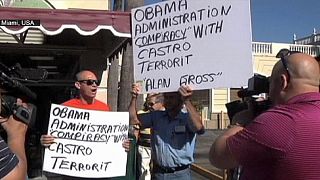 In the Cuban capital Havana, there were celebrations at the news of the thaw in relations with the US.
If Obama succeeds in getting Congress to drop the US embargo, life could be very different for Cubans.
The country has suffered decades of hardship. The UN has consistently condemned the embargo. Amongst other things, it restricts Cubans' access to medicines, affordable food and building materials.
One local resident in Havana said: "We're very happy and we've been waiting many years for this to happen. The embargo is already absurd. All these measures that have been taken against our country are absurd."
In Miami, the heart of the Cuban exile community in the US, there were mixed feelings. Typically Cuban-Americans here are anti the current Cuban government, and many are angry at Obama's decision..
One Cuban-American woman said:"The US is a big power. It needs to continue functioning like one and tighten its trousers. I think Obama's trousers are coming loose."
Some however saw a positive side to freeing up travel between the two countries.
Cuban exile, Santiago Portal said:"The people from there will meet many people here and those over there will get to know this country better and then they will realize the difference between tyranny and freedom."
After more than half a century of their governments being ideological foes, Cubans and Americans now wait to see what concrete changes wednesday's dramatic announcement will bring.