Pope Francis turns 78 with tango and tea in St Peter's Square
Comments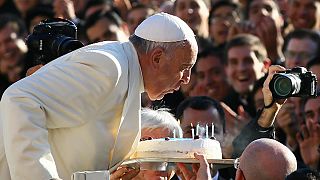 Pope Francis' weekly address had a festive atmosphere as thousands gathered in St Peter's Square to celebrate his 78th birthday.
The celebrations were tailored to make him feel at home, with a mass Argentinian tango and a cup of mate tea typical of his birthplace.
Despite the high spirits, the Pope took the time to pay tribute to the multiple victims of this week's terror attacks:
"Now a moment of silence and then with the Lord's prayer, I wish to pray with you for the victims caused by the inhuman terrorist acts in Australia, Pakistan and Yemen."
He even received a late birthday present when the US president thanked him for the role he played in helping to normalise US-Cuba relations.