Greek MPs divided over austerity as crucial vote looms
Comments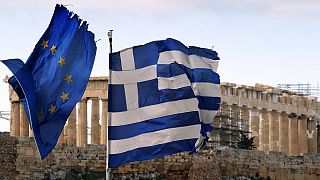 Greek Prime Minister Antonis Samaras faces a crucial challenge on Wednesday as parliament enters the first round of a three-stage vote to elect a new president.
As things stand I think it's impossible for this government to elect a new president
His conservative-led coalition has nominated former European Commissioner Stavros Dimos as its candidate but needs the support of at least some opposition MPs to win.
"It may be possible during the last crucial vote on the 29th to see some change of heart by some opposition MPs", says political analyst Giorgos Papachristos, "but as things stand I think it is impossible for this parliament to elect a new president."
The prime minister brought the vote forward by two months earlier this week after the EU agreed to a two-month extension of Greece's bailout programme.
If he fails to push through his nominated candidate then it is likely an election will be called, and latest polls put the left-wing Syriza party ahead. They have promised an end to austerity and cooperation with the EU.
"By calling a presidential election before the end of the term the government is trying to extend its life", says Markos Bolaris, Independent MP, "but this will only extend the duration of austerity and recession that has destroyed the Greek economy".
Since 2010 Greece has received around 240 billion euros of bailout money. But it has come at a high price of austerity that has resulted in unpopular reforms and huge job losses, which in turn has led to a rise in popularity of the left and its anti-EU stance.
Bringing the vote forward was a huge gamble for Prime Minister Samaras, and if analysts are right, then the odds are stacked against him. It is thought he only has 155 of the 180 votes he needs to win.
The second and third votes will be on Dec 17 and 23.