EU commissioner warns Greek non-payment of bailout debts would be 'suicide'
Comments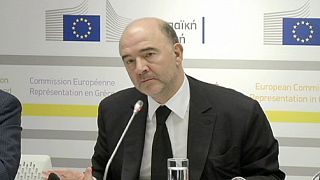 Against a background of political turmoil the European Union's Economic Affairs Commissioner Pierre Moscovici arrived in Athens on Tuesday on a two-day visit.
By the end of February next year, the troika will leave Greece
Moscovici has a carrot and stick mission: Firstly to keep Greece on the straight and narrow path of economic reform while holding up the goal of becoming debt free.
"If we succeed in closing the review, which I hope; I will work with the teams of the Commission and by the end of February next year, the troika will leave Greece. And we will move to another phase," said Commissioner Moscovici,
He added: "Greece must show continued commitment to both fiscal responsibility and further structural reforms."
Greece recently emerged from a six-year recession and its economy is expected to have expanded this year and in 2015, but only if it continues to fulfill the conditions stipulated by its international lenders.
The EU and IMF want still more austerity measures of which the Greek people have become heartily sick.
Emerging from his meeting with Prime Minister Antonis Samaras, Moscovici dismissed defiant threats from some quarters to leave the euro and warned that a refusal to repay bailout debts would be suicidal.
"The EU Commissioner of Economic Affairs, Pierre Moscovici, tried to put an end to talk of a Greek exit from the euro by firmly stressing that the place of Greece within the eurozone is not disputed," concluded euronews reporter Symela Touchtidou from Athens.