Children's tribute to Ukraine's 'cyborg' soldiers
Comments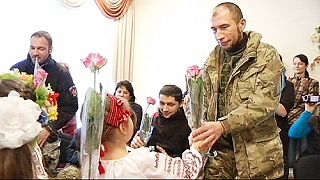 Far from the frontline Ukrainian soldiers have received warm tributes and gifts from staff and children at a Kindergarten in Kiev.
They came to thank the school for donating money to a burns centre in the city, where many soldiers have been treated for injuries received fighting separatist rebels in the east of the country.
The staff and children of the school also wanted to thank the soldiers for their continued sacrifice in fighting for Ukraine.
"These children gave us so much warmth", said one of the soldiers. "They reminded us that we have history that we need to remember and that we have a future we need to fight for".
The children played games with the soldiers and presented them with gifts as well as humanitarian aid to take back to the frontline.
"We want to make the soldiers' lives better: said the school's principal Svitlana Pozikhailo. "We're sending them coffee, medicine, warm clothes, and children's drawings. The children want them to come back alive. That is their main wish."
"I wish them happiness, health and victory", said one child.
Some Ukrainians call the soldiers still fighting in the east cyborgs in recognition of what they see as their superhuman powers in holding on to Donetsk airport despite the continued attacks of well-armed Russian separatists.