Australia mourns the victims of the Sydney Siege
Comments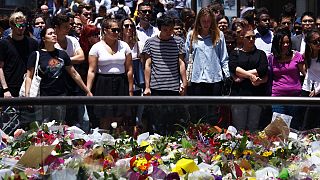 A country in mourning – Australia pays tribute to the victims of siege in Sydney.
They were just buying a cup of coffee and got caught up in this affair
Two of the 17 hostages died alongside the gunman when heavily armed police stormed the Lindt cafe overnight ending the 16 hour standoff.
The victims have been named as 38-year old lawyer and mother of three Katrina Dawson and 34-year-old cafe manager Tori Johnson.
Katrina Dawson was said to be protecting her pregnant colleague when she died. Cafe manager Tori Johnson has been hailed as a hero in local media, as he reportedly attempted to wrestle the gun from the hostage taker.
Victims of Sydney hostage siege: Barrister Katrina Dawson; cafe manager Tori Johnson. via smh</a> <a href="http://t.co/Ozf7swnBjv">http://t.co/Ozf7swnBjv</a> <a href="http://t.co/lCcrg6vVUd">pic.twitter.com/lCcrg6vVUd</a></p>&mdash; Jim Roberts (nycjim) December 15, 2014
Johnson's family released the following statement:
"We are so proud of our beautiful boy Tori, gone from this earth but forever in our memories as the most amazing life partner, son and brother we could ever wish for. "
Police Commissioner Andrew Scipione also paid tribute to the hostages and victims saying, "They were just buying a cup of coffee and got caught up in this affair".
At a church service held near to the Lindt cafe, Archbishop Anthony Fisher paid tribute to the victims saying,"heart of our city is broken by the deaths of two innocents".
A beautiful photo of the impromptu memorial set-up in Sydney's Martin Place (via mattdoran22</a>) <a href="http://t.co/z13WZO1WAo">pic.twitter.com/z13WZO1WAo</a></p>&mdash; BuzzFeed Australia (BuzzFeedOz) December 16, 2014
As police investigate the operation, questions are being asked over the suspect Man Horan Monis, a known extremist who was on bail at the time, about why he was not more closely monitored.
Prime Minister Tony Abbott told reporters Monis was known to the police. He had been charged as an accessory to murder and had multiple sexual offences. He had also sent a string of letters to the families of Australian soldiers who died overseas, an offence for which he served time in prison.
"Even if this individual, this sick and disturbed individual had been front and centre on our watch lists. Even if this individual had been monitored 24 hours a day its quite likely certainly possible that this incident could have taken place," explained Abbott during a press conference on Tuesday.
Sydney lawyer Adam Houda, who represented Monis during trial over the letters to soldiers' families described Monis as "a deeply unsettled loner" who was separate from the city's tight-knit Muslim community.