Interferences on stage in Cluj-Napocca
Comments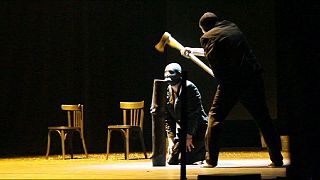 The Hungarian Theatre in Cluj-Napocca opened its doors to the fourth edition of the International Theatre Festival "Interferences".
Two leading productions took centre stage; "An Enemy of the People" written by Henrik Ibsen – directed by Thomas Ostermeier from the Schaubühne Berlin – and "The Merchand of Venice" by William Shakespeare, directed by Ilan Ronen from the Habimah Theatre in Tel Aviv.
As well as local productions by Nona Ciobanu, Silviu Purcărete, András Urbán and Robert Woodruff – 23 stage performances from 14 countries and four continents took place between November 26 and December 7.
In his latest dance performance, "Paysage Inconnu" Josef Nadj enthralled the audience at the Centre Chorégraphique National d'Orléans, France with dreams and desires of his home town Kanjiza, in the province of Vojvodina (ex-Yougoslavia).
First staged in 1896 the play "Roi UBU", written by Alfred Jarry, serves British theater director Declan Donnellan and his company Cheek by Jowl as a model in order to question the always current presence of an illusory beautiful childhood.
Glorified as an innocent period of life, Donnellan portrays these times as a selfish one of easy brutality and negative feelings.
In a compositional sparkler, Donnellan flowers out the deep gap between a barbaric childhood and a weak mask of civilization, which makes adults out to be good human beings.
In "Sacheon-Ga" singer Jaram Lee (Pansori Project ZA, South Korea) adapted the play "The Good Woman of Setzuan" written by Bertolt Brecht for the Korean genre of musical storytelling, Pansori.
Focused on the life of Sun-Deok, Lee tells the story of a young women and her turbulent search for a happy life in modern-day Korea.
In a one-women show Sun-Deok plays all the characters and is accompanied by percussion and a captivated audience, two important pillars of Pansori.