Why Spain is saying 'adios' to Google News
Comments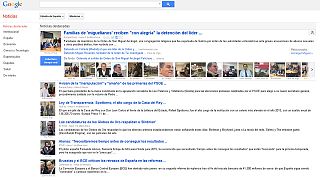 Google will stop its news service in Spain on December 16, it announced in a blog post. The shutdown will take place prior to the introduction of a new intellectual property law.
What would the new law mean?
The new law, which will come into force on January 1, 2015, requires publishers to charge Google News – and any other news aggregator – for showing even small snippets of their content.
Google News says publishers have to charge whether they want to or not. The law itself calls this nonnegotiable.
Spain's congress approved the law (PDF) – but only with the votes of the Government's Popular Party. There were 172 votes in favour, 144 against and 3 abstentions. Not a single opposition MP supported the bill.
The Spanish Intellectual Property Law was first published in 1996. Since then, different governments have failed to adapt it to the Internet environment.
Why has it been introduced?
The government – both the current and previous socialist one – have pushed hard to reform intellectual property laws.
A Wikileaks diplomatic cable obtained by Spanish newspaper El Pais suggested Spain had come under pressure from the US to toughen its Internet piracy laws. The film and music industries have also pushed for more stringent legislation.
Spain has long been a European leader in Internet piracy. A study earlier this year revealed 84 percent of digital content consumed in Spain is illegal.
What do critics of the new law say?
Google says it creates "real value" for news websites, driving people to their websites, which in turn generates advertising revenue.
Critics – many of them news outlets themselves – say it goes against the fundamentals of the Internet.
They also claim it will have a negative impact of 133 million euros across Spain's whole digital economy.
What does the Spanish government think?
Spain's Ministry of Education, Culture and Sport said Google was making a business decision to pull certain services. It said the government was open to negotiation about how it implemented what its statement referred to as a 'Google tax'.
What will Google's withdrawal mean for Spanish news sites?
It could hurt smaller publishers more than major news sites. The top five Spanish news sites (ElPais.com, ElMundo.es, ABC.es, LaVanguardia.com and ElPeriodico.com) are not heavily reliant on referrals from sites such as Google News – they are responsible for less than a quarter of their traffic, reports Reuters.
What about the rest of the world?
Its impact is likely to be felt in Latin America. From December 16, readers there will no longer be able to find links to articles from Spanish news publishers on Google News.
What's the picture in the rest of Europe?
The European Union's recently-elected Digital Commissioner Guenther Oettinger said in October that he was mulling a regional Internet copyright levy, taking aim at Google, according to Reuters.
Publishers in Germany and France have also lobbied for new national copyright laws to be passed. These would potentially force Google and other web aggregators to pay licensing fees when they publish snippets of their news articles.
In November Germany's largest publisher Axel Spinger did a u-turn on a move to block Google. A trial by a consortium of German publishers found that, without Google News, their online traffic plunged.
How else is Spain cracking down on Internet piracy?
Spain has proposed a reform of its penal code, so the owners or administrators of websites providing links to copyrighted content would go to prison.