Brazil President Rousseff moved to tears by military rule abuses report
Comments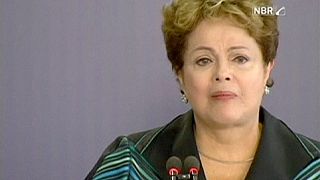 Brazil's military dictatorship committed crimes against humanity, according to the country's national Truth Commission which recommends that the state's torturers lose their immunity from prosecution.
The commission's report was presented to President Dilma Rousseff in Brasilia after a two-and-a-half year investigation.
It says there is proof that 434 people were killed or disappeared between 1964 and 1985, but estimates that the real figure is undoubtedly higher.
The report claims arrests, torture, executions and disappearances were rife under the two-decade period of military rule.
"We, who so love democracy, hope that the wide circulation of this report helps to reaffirm the priority that we must give to upholding democratic liberties. In this way, we must show our absolute aversion to authoritarian states and dictatorships of any kind," President Rousseff said, choking back tears at the end of her speech.
A young Marxist in the early 70s, she was among thousands who were jailed and tortured – hung upside down and given electric shocks to her feet, head and breasts.
Yet Rousseff opposes calls to prosecute former military officers, believing Brazil's hard-won democratic stability matters more than her personal beliefs or past.
Brazil's dictatorship, which overthrew a democratic government in 1964, was less murderous than those in Argentina and Chile.
But the country has previously been criticised for failing to tackle its past.
Unlike in some neighbouring South American countries, Brazil's alleged human rights abusers during the Cold War era have never faced punishment because of a 1979 amnesty law.
The commission's report identifies about 100 people who are still alive who could be brought to trial.