CIA's actions a 'stain on US history', says Senate Intelligence Committee head
Comments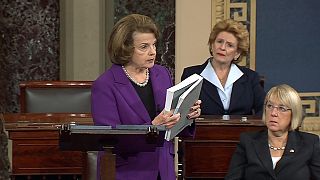 The CIA is facing the most damaging moment in its history as details of its post 9/11 terror suspect interrogation methods were unveiled in Washington.
Enhanced interrogation techniques were not an effective way to gather intelligence.
The long-delayed report from the Senate Intelligence Committee detailed the so-called 'enhanced interrogation techniques'.
They concluded the techniques failed to yield life-saving information, and that the CIA misled the government on the nature and extent of the methods.
Costing 40 million dollars, it is the result of five years of research into six million internal CIA documents. Only a 480-page executive summary was allowed to be released after a battle between the CIA and the Senate committee.
The vice-chair of the committee Senator Saxby Chambliss said that the release of the report was a mistake that could put US national security in jeopardy.
Dianne Feinstein, chair of the committee said, "The CIA's actions a decade ago are a stain on our values and our history. The release of this 500-page summary cannot remove that stain, but it can and does say to our people and the world that America is big enough to admit when it's wrong and is confident enough to learn from its mistakes".
Among the report's findings:
i) enhanced interrogation techniques were not an effective way to gather intelligence
ii) the CIA provided Congress, the White House, media and American public with inaccurate information about the programme and its effectiveness
iii) CIA management was inadequate and deeply flawed
iv) techniques were far more brutal than people were led to believe
v) actionable intelligence that was otherwise unavailable was not obtained using these coercive interrogation techniques
Republican politicians are expected to challenge the findings, two of them called the report's release reckless and irresponsible.
"Should the CIA be criticised or decorated, as former vice president Cheney has suggested? The report has sparked another nasty political fight in Washington straight along party lines. The issue whether torture directly leads to results, thus, more security, is controversial – even among experts," explains Euronews correspondent Stefan Grobe.
The US put facilities on high alert in expectation of violent fallout from the report.
Governments around the world will also be worried by the revelations. Countries in Europe, Africa and south-east Asia allegedly participated in the extraordinary rendition programme, according to George Soros' Open Society Foundation's 2013 report.