P.A.T.R.I.O.T A.C.T... what it really stands for
Comments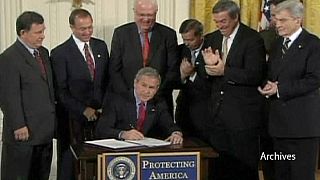 Any notion of super-power invulnerability in Americans' minds fell away on September 11th, 2001.
Those in the business of protecting the nation internally or abroad wanted a radical reset.
The authorities felt new methods were in order, tools that would have a certain effect on civil liberties.
President George W. Bush delivered a speech aimed at reassuring Americans: "Our country is strong. A great people has been moved to defend a great nation. Terrorist attacks can shake the foundations of our biggest buildings, but they can not touch the foundation of America."
Bush and Congress touched the foundation with the USA Patriot Act.
The letters in 'USAPATRIOT' stand for Uniting and Strengthening America by Providing Appropriate Tools Required to Intercept and Obstruct Terrorism.
The limited duration law was extended, the second time by President Obama.
It allowed the FBI, CIA and NSA to coordinate for added strength.
This removed restrictions against listening in on other people's private phone conversations, reading their mail, medical records, bank records and allowed searches without a person's knowledge. That last provision was declared anti-constitutional.
Viet Dinh, who helped write the law, said: "We had a system of wiretap authorisations that were first enacted in 1968. The USA Patriot Act ensured that law enforcement's authorisation kept up to speed with the technology."
Ex-FBI agent Michael German, now in the American Civil Liberties Union, said: "They didn't get any more leeway to investigate guilty people. What they got leeway to do is investigate people they didn't even suspect. And that's really the problem because that opens the door to collecting on anyone."
To hold them indefinitely, the term 'enemy combatant' was re-tooled to de-qualify for any Geneva Convention protection anyone suspected of links with the Taliban or al Qaeda.
Out of office, Bush admitted he authorised law violations, including torture.
The Center for Constitutional Rights said it was appalled by the "apparent lack of concern on behalf of the American public and Justice".
Abu Ghraib, in Iraq, torture at Guantanamo, in Afghanistan and in secret prisons by US forces and contractors, rights advocates said "has damaged and endangered the US for years to come—and cannot and must not be minimised".