All Agenda 2020 reforms unanimously passed by the IOC
Comments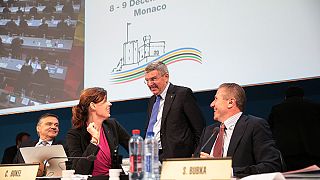 [UPDATE-1] The International Olympic Committee (IOC) overwhelmingly voted on Monday to reform their movement by approving its president's 40-point innovation package.
On a day which will likely define the IOC for decades, sweeping alterations to the bidding process were pushed through by members to make the world's largest multi-sport event more appealing to prospective host cities.
"Even in my wildest dreams I would not have expected this," IOC president Thomas Bach said of the speed with which his 'Agenda 2020' reforms were given the green light in Monaco.
"It showed the great determination of the members for these reforms to make it happen, to make this progress. That it would go like this was a very positive surprise.
"Some of the recommendations were not easy to swallow. This made this day so special and encouraging when it came to the vote regardless of their own interest, their own position, they were determined to make this Agenda 2020 a success."
Bach had moved decisively since his election last year to stamp his mark on the IOC and drum up support for the Agenda 2020 plan, the most sweeping set of reforms since the Salt Lake City bid scandal in 1999.
Votes scheduled to take just under two days were completed in half the allocated time, surprising everyone including Bach himself. Ironically, the only idea which didn't pass unanimously was the call for a coffee break.
"I hope in 20 years I can look back to this day with satisfaction and happiness and maybe a little bit of relief," Bach added.
Other major innovations approved included the creation of a new Olympic TV channel, a new policy to guard against sexual discrimination, and a drop of the 28 sports cap for future Games.
But within hours of the decision to drop the cap, the realisation that some sports events would need to be cut to make space for newcomers, dawned on all sport federation leaders, who began jockeying for position to defend their own interests.
Members can also now brace themselves for intense lobbying by sports currently not on the Olympic programme, such as Baseball and Softball, for the upcoming Tokyo Olympics in 2020.
The main recommendation approved, however, was the concept of making the cost of future Olympics cheaper and easier. In addition, potential candidates will have the opportunity to discuss bid plans with the IOC before formally declaring a candidacy.
Such measures were seen as a necessity by the IOC who recently suffered the embarrassment of having four out of six candidates drop out of the race to host the 2022 Olympics over financial concerns.
Many were scared off by the extraordinarily high price tag of the Sochi Winter Olympics, reported to cost in the region of $51 billion, with other cities spending close to $100 million on summer Games bids.
The 127th IOC Extraordinary Session ran from 5-9 December.
Image Credit: IOC