Philippines impact from Typhoon Hagupit lower than feared
Comments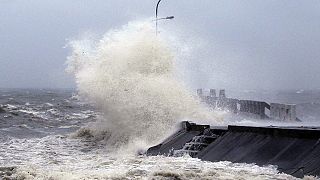 The Red Cross in the Philippines has confirmed reports of 21 deaths from Typhoon Hagupit.
After authorities near the storm's first contact with land on Saturday said that the eye of the storm had passed and that it was moving on toward the capital, Manila, people who had fled homes began to head back. The Philippines had evacuated more than one million.
A spokesman with the United Nations Office for Disaster Risk Reduction in Geneva called it "one of the largest evacuations we have ever seen in peacetime."
Last year a so-called super storm left more than 7,000 dead or missing.
An evacuee at a converted school said: "We're safe and secure here, [not like] if we had stayed near the coast. The sea might surge, and if that happens we're dead."
Another woman said: "Our house is near the sea and it's certain that our roof will be blown away. We are scared. That is why we came here."
Although there hasn't been the same deadly surge, mudslides from rain are still a threat.
Typhoon Hagupit was expected to be stronger when it hit the third largest island in the Philippines, Samar province, just south of Tacloban, which has still not fully recovered from last year's destruction.