Pakistan: deadly violence at Imran Khan 'shut down' protest
Comments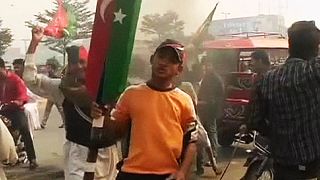 An anti-government protest in Pakistan has turned deadly as supporters of opposition leader Imran Khan clashed with security forces and rival groups backing Prime Minister Nawaz Sharif.
At least one person was killed and several others injured in the eastern city of Faisalabad.
Khan, a former cricket hero, has pledged to 'shut down' several Pakistani cities in his campaign to force the premier to step down over claims he rigged last year's election – something Sharif denies.
Deadly unrest had already marked Khan's earlier protests in the capital Islamabad.
Despite the fresh bloodshed, Khan's campaign is due to continue – culminating in moves to 'close' the whole of Pakistan later this month.