More judo gold for Japan in Tokyo's Grand Slam
Comments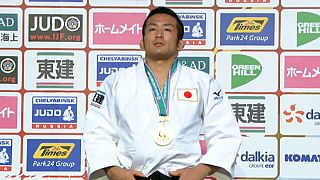 Japan heads the medal table with another two golds after the second day of the the Grand Slam tournament in Tokyo. The home nation now has six golds.
In the 73kg the best two fighters contested the gold. Shohei Ono and Hiroyuki Akimoto.
Ono, world champion in Rio in 2013, was the favourite and after what was a long and complicated fight he finally scored a yuko to take the gold.
Gold again in the mens 81kg category. Despite an early penalty Takonori Nagase was the eventual winner though only after more penalties for both fighters. Added time brought victory for Japan when Nagase's opponent Sergui Toma of the United Arab Emirates conceded the match.
The experience of Gevrise Emane helped break the stranglehold and resolve of her Japanese opponent Haruka Tachimoto in the women's 70kg. The French fighter also had to contend with the partisan crowd. But the two-time world champion and Olympic medallist showed how to control a combat like this and despite a number of penalties in the fight she went on to take the gold.
No gold for the home nation either in the womens 63 k category. It took Slovenian fighter Tina Trstenjak a mere few seconds to clinch the gold. The top seeded athlete and bronze medallist at the last World Championships didn't giver her opponent the Italian Edwige Gwend any time to settle. Trestnjak scored ippon with a counter attack.