Belgian fries bid for UNESCO world heritage status
Comments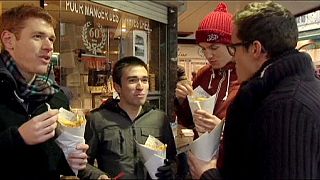 Belgium is trying to cash in on its chips with a UNESCO world heritage bid.
A cone of potato chips is Belgium in miniature
Long cited as French, Belgians have launched a petition to get the humble fry recognised by the global body as one of mankind's cultural treasures.
The issue has even united the quarrelling French and Flemish speaking communities in the country.
"There is a phenomenon we share, German-speakers, French-speakers, Dutch-speakers, and it's a cone of fries but it's also this culture which surrounds it. It's a good product, but it's a way of living, a 'Belgitude," explained Bernard Lefevre, National President of the Belgian Union of Fritkot owners UNAFRI.
"A cone of potato chips is Belgium in miniature," he added.
The petition is gaining momentum during 'Fries Week' launched by the Minister of Agriculture from December 1-7.
#selfrites la semaine de la frite!!! pic.twitter.com/s43Fx1IZE4

— Thomas

LECLERCQ

(@ManofGoodwill) December 2, 2014
La semaine de la #frite, ça commence lundi! http://t.co/TUxby4kAOLpic.twitter.com/8a3TWXYMtZ

—

AWEX

Agri-food (@AWEXAgrifood) November 28, 2014
Baraque à frites "parlementaire" installée devant le #ParlWal, à l'occasion de la "Semaine de la frite" pic.twitter.com/zHfUoxjXPt

— Rudy Hermans (@RudyHermans) November 26, 2014
Twice fried in beef fat, the delicacy was said to pre-date similar potato recipes across the border. Belgium blames US soldiers stationed in French-speaking Wallonia during the First World War for wrongly attributing the fried potato chip to France. However, historians say it is difficult to prove the origins.
Even French tourists at the famous Maison Antoine Friterie in Brussels admit that the Belgian version has a certain je ne sais quoi.
"The fries are crunchy but on the inside they're soft, they're really different from what we're used to," commented Nicolas Perrin from Paris.
The fries are so popular that it can take up to 30 minutes to get served at some of the capital's chip shops.
Traditionally eaten from a paper cone and served with a variety of sauces, fries are served at the 'fritkot'. These chip vans and shacks number 5,000 in Belgium. That makes them ten times more numerous than fast-food chain McDonalds.
Should the Belgians manage to get their petition recognised, they will join the UNESCO list of 314 items which include Argentine Tango, Turkish coffee and Chinese calligraphy.