Afghan new president faces major test of skills, NATO leaving, stronger Taliban
Comments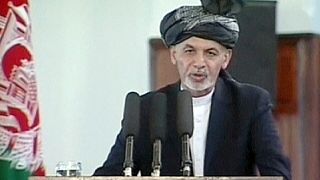 The new President of Afghanistan Ashraf Ghani faces great leadership challenges.
The former finance minister who also worked with the World Bank is described as having a modernist style, with a stress on merit and responsibility.
His predecessor Hamid Karzai tended to a traditionalist style in managing the country, where systems give pride of place to loyalty.
After a long dispute about the election, he and rival presidential candidate Abdullah Abdullah in a prime-minister-like new role as chief executive have agreed to share power.
Although they are have no cabinet, they both have a pro-Western and anti-corruption outlook.
Afghanistan's economy is nearly paralyzed from instability, it can't attract investors' confidence, hence the interest in Ghani's 15 years managing development and transformation in China, India and Russia.
The national budget is €6.2 billion, two thirds depending on foreign aid.
Afghanistan is having trouble meeting its own share of the budget because political uncertainty has hurt business and tax revenues. Collection was down 24 percent January-October compared with last year.
The Afghan security forces complain their resources aren't enough to fight the war against the Taliban, in spite of €3.2 billion in military aid this year, with attacks from the Islamic fundamentalists perhaps as strong as they've ever been since the American-led invasion threw them from power in 2001.
This year has been the costliest in civilian lives as well as military. The 2014 death toll in the security forces is 4,600, which is six percent more killed than last year.
NATO troops are set to be all but withdrawn, their Afghanistan combat mission ending. Some 12,500 will be staying, in training and support roles.
NATO Secretary General Jens Stoltenberg, talking about a new chapter in its partnership with Afghanistan, said:
"They have a force of 350,000 soldiers and police. They are trained and they have received a lot of equipment… and we are still going to be there with the resolute support mission."
US officials have said that new rules for the Americans staying will let commanders order airstrikes or night raids on Taliban forces if they pose grave threats.