Switzerland's new president to focus on 'people power'
Comments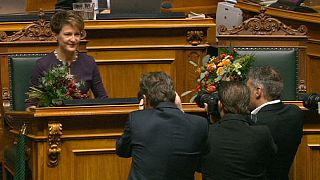 Switzerland has a new president. Simonetta Sommaruga was elected by 181 out of a possible 210 parliamentary votes in Bern.
The 54-year-old Social Democrat takes up the rotating presidency for a one year term, and a large part of her time will be devoted to people power. Switzerland held twelve referendums in 2014 alone, and she's under pressure to represent the will of the citizens despite international commitments.
"Already people are approaching me in the street or even in market places and asking me about our direct democracy. In the coming year I would like to stress this particular theme and make sure that it will be one of our main focal points in 2015," said Sommaruga during her inaugural speech to parliament.
She faces the tough task of implementing a referendum on immigration quotas voted in February, which runs contrary to EU rules on freedom of movement and could threaten relations with the 28-member bloc which constitutes Switzerland's largest trading partner.