Carnage in Kenya as al-Shabab massacre 36 non-Muslim quarry workers
Comments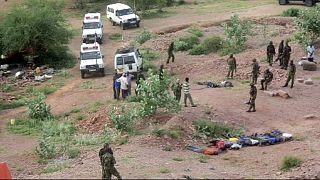 Al-Shabab militants have killed 36 non-Muslim quarry workers in the Kenyan town of Mandera.
Residents of the area close to the Somali border say the assailants separated Muslims from non-Muslims before carrying out the killings.
The latest carnage comes after 28 people were shot dead on a bus in the same area last week.
Again non-Muslims were the targets.
The quarry killings took place after midnight local time while the labourers were sleeping in tents close to their place of work.
Al-Shabab has claimed responsibility for attacks in response to Kenyan military action in Somalia.
The deaths have caused outrage across the country and the government is coming under fire for its failure to protect its citizens.
Many Christians living in Mandera have already fled the violence.